Repair coupling with Pressure Leakage Stoppage Video
发布日期:2014-11-03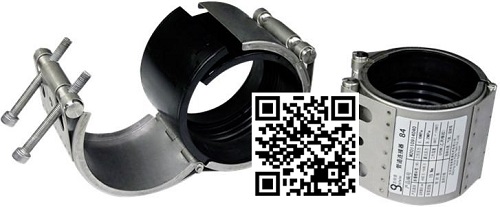 The advantages of r
epair couplings
: simple operation, don't need special professional skills, ordinary workers can operated after simple training. The technical parts of the products produce in a factory way. A pipe connection only takes a few minutes, which simplifies the technical difficulty of field operation and saves time, thus stabilizing the quality of the project and improving the work efficiency. This is also the general direction of installation technology development.
The traditional way of
pipeline connection
between welding and flange requires not only welding workers with corresponding skills, but also time-consuming, difficult operation and pollution of welding fume. Due to the different operation space and welding skills, it is difficult to achieve satisfactory results in welding quality and appearance, thus affecting the overall quality of the project. Because the multifunctional pipeline coupling is a finished product, the operation space needed in the field is small, and it can be installed in the corner of the wall. The operation difficulty is greatly reduced, thus saving the floor area and beautifying the effect of
pipeline installation.